New South Wales
Rev. The Hon. Dr Gordon Moyes' 125th Anniversary Message
Reverent The Honorable Dr Gordon Moyes has published a Boys' Brigade 125th Anniversary statement on his website. Click here to read the article.

In the article, The Hon Dr Moyes reminisced the humble beginnings of Boys' Brigade (BB) in both Scotland and Australia and compared the impact of the BB program on boys to the contemporary youth ministries.

"Too much of contemporary youth ministry is about getting young people to make a profession of faith and to fit into 'church-culture'", writes The Hon. Dr Moyes.

"And so like recent research shows, 80% of young people who make a profession of faith in their teens give it up after high school (suggesting only shallow foundations)".

The Hon. Dr Moyes was president of Boys' Brigade in New South Wales from 1988 to 1994. He was then elected the national president and was a speaker at the International Boys' Brigade Conference in Singapore.

In 1982, prior to his acceptance of the state presidency, The Hon. Dr Moyes was a guest at the Centenary Celebrations in Sydney where 1000 boys and their leaders gathered to mark a 100-year milestone of BB.

Rev The Hon Dr Moyes stepped back from being actively involved in BB for health reasons. However, he continues to value the work of BB.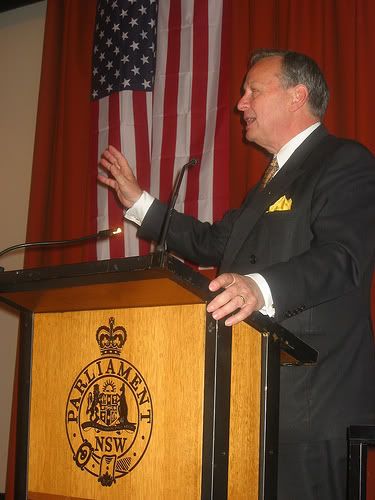 Rev The Hon Dr Gordon Moyes
Pages: 1
Alan Zana (1 Nov 2008)